Im hungry, i need a fur burger

Posts: 9910
Joined: Wed Aug 20, 2008 4:22 pm
Location: under your bed
I just watched all of that guy's videos.
That's my new favorite YouTube channel.
Posts: 3034
Joined: Sat Oct 23, 2010 3:58 pm
Because this is j2 in 2012.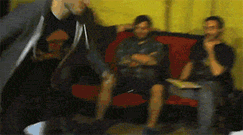 Jason wrote:Can't wait to fall in love with a beautiful young man
Jason wrote:Like if I successfully hook up with this guy amazing shit could HAPPEN
Help me get more dropbox space!
Posts: 1873
Joined: Sun Oct 30, 2005 6:32 pm
Posts: 1
Joined: Sun Jul 16, 2017 6:31 pm
these pretzels are making me thirsty

Posts: 8423
Joined: Sun Sep 02, 2007 12:43 am
Location: Philly